Updated September 7, 2021
More details for Fall 2021 reopening will be posted when available. *Those who are neither fully vaccinated nor enrolled in the rapid screening program by September 13 cannot come to any University premises.* This includes our libraries.
The safety of our campus community continues to remain a priority and we will continue to follow public health guidelines to reduce the spread of COVID-19.
You are required to complete a self-assessment using UCheck each time you plan to visit campus. Self-assessment signs are also posted at the entrance. Stay home if you are feeling unwell.  
Users will be required to swipe their TCard upon entering the library.
Physical distancing measures will continue and non-medical masks will be required in all indoor spaces (with allowable exclusions).
Do not leave items unattended.  
Vaccination status and rapid screening
All members of our community who come to U of T campuses in Fall 2021 – including use of library spaces – must be fully vaccinated against COVID-19
They are expected to: 1) have their first dose by September 13 and 2) have their second dose by October 15
This requirement aligns with the recent recommendations of the Council of Ontario Medical Officers of Health for post-secondary institutions in Ontario and the sector's response
Proof of vaccination must be uploaded to UCheck – our online self-assessment tool
The vaccine declaration & upload system will be available the week of September 6th – please retain all vaccination records in preparation
Individuals awaiting their final vaccine dose, or who have received a University-approved exemption, must participate in the University's rapid screening program and may be subject to additional safety measures. More information on this process coming soon
TCards and UCheck requirement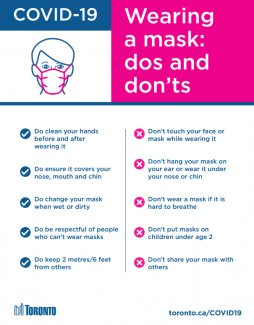 Physical distancing
We are awaiting further guidance from the Ministry of Colleges and Universities about physical distancing, and we will continue to follow local public health guidance
Physical distancing protocols are currently in place, with 2-metre spaced decals posted on the ground
There are arrows and signs to show where to walk and stand in order to keep a 2-metre distance from others
Stanchions are used to manage line-ups and traffic flows in and out of the UTSC Library
Signage on table space will indicate maximum number of people per table
Masks and barriers
Face masks are required in all indoor spaces – including our libraries – see updated U of T policy and guidelines
Library staff wear masks, and public-facing service points have plexiglass barriers
Hand sanitizer and cleaning
Hand sanitizer is available for library users
Washrooms are cleaned nightly
Code of conduct