On March 9, 2023, the UTSC Library is proud to be partnering with the Department of Arts, Culture, and Media, the Doris McCarthy Gallery, and Student Life Programs to bring you an afternoon with Jesse Wente.
A self-described 'Ojibwe dude' with a national and international lens, Jesse's work and words encourage his audiences to consider diversity and inclusion into the long-term, future view of their organizations, industries, and country. In addition to serving as the current Chair of the Canada Council for the Arts, Jesse has previously served as Director of Film Programmes, at TIFF Bell Lightbox, where he oversaw theatrical, Cinematheque and Film Circuit programming. He also appeared on CBC Radio's Metro Morning as film and pop culture critic for 20 years.
Come by for your chance to hear Jesse share stories of his personal experiences and those of his family coming from his most recent best-selling title, Unreconciled: Family, Truth, and Indigenous Resistance. Through his engaging storytelling, Jesse helps to uncover the lies and myths that most often affect relationships between Indigenous peoples and white settlers. Using his voice to emphasize truth over comfort, Jesse will help audience members to gain an understanding of the state of Truth and Reconciliation in Canada, and to move beyond ideas of allyship in order to foster real solidarity.
Jesse Wente will be signing books, with copies of "Unreconciled: Family, Truth, and Indigenous Resistance" available for sale at the event.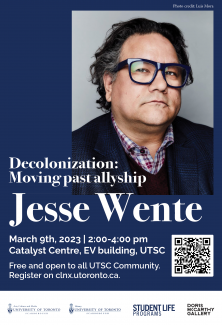 Date and time: Thursday, March 9th, 2023 2:00-4:00pm 
Location: Catalyst Centre, EV building, UTSC 
Free and open to the UTSC community and public 
U of T community registration via clnx.utoronto.ca
Public registration via Eventbrite
Light refreshments will be served